May 11, 2021
Farmers Market Season Wrap-up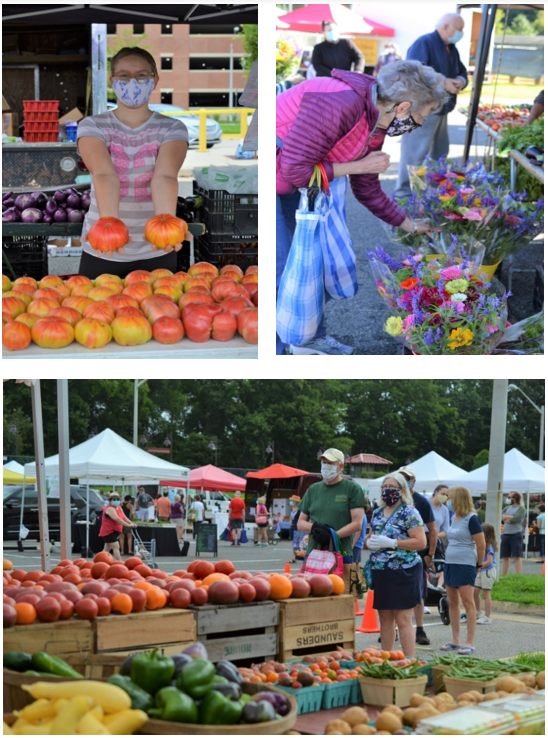 Where do we even begin? It is hard to believe that the 2020 year and Farmers Market season has ended. COVID-19 has changed the way we operate our Farmers Markets. From one-way walkways to social distancing guidelines, we have worked hard to ensure that our markets are safe for everyone who visits. The well-being of shoppers, volunteers, and vendors was and will always be our top priority when operating the markets. Despite these unprecedented times and a late start to the season, we still had a successful year. This was made possible by our customers! By shopping at our markets, you supported local farmers and artisans, reduced your carbon footprint, deepened the sense of community, and practiced safe shopping. Again, we extend our biggest thank you for your commitment to shopping local and supporting small businesses during these challenging times.
Thank you, Market Managers!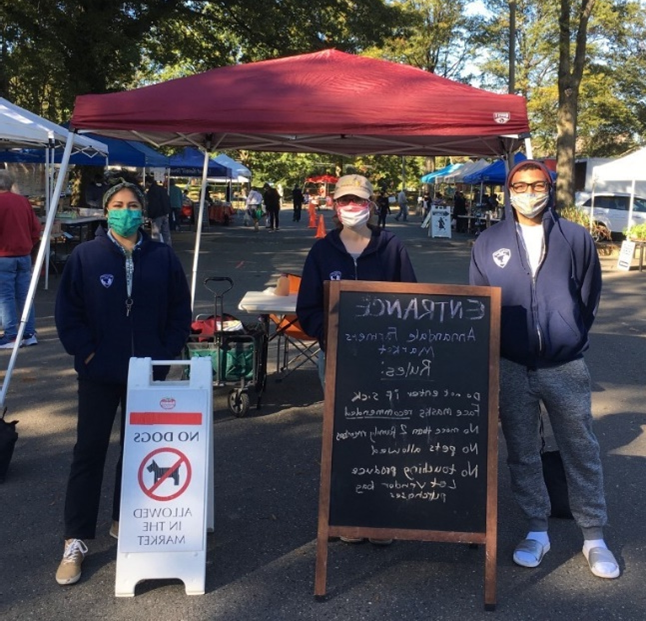 A big thank you to our volunteer Market Managers for their patience and dedication while navigating these unusual times. They play an essential role in ensuring that the markets run smoothly. Be sure to give them a big thank you when you see them in the spring when markets reopen!
Join Our Farmers Market Team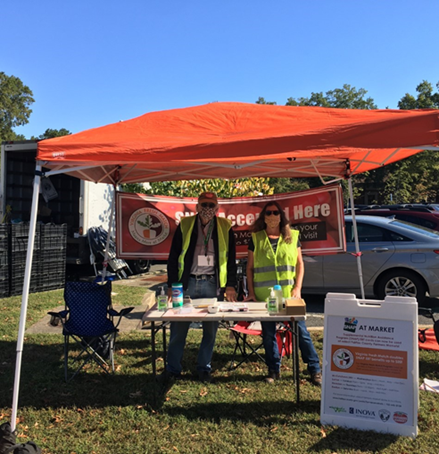 Do you want to volunteer for your community in a safe environment with covid-19 safety protocols in place? Do you love locally grown food? Are you a people person who enjoys being outside? Would you like to help bring fresh, healthy, local produce to your community?
Then this volunteer opportunity is for you!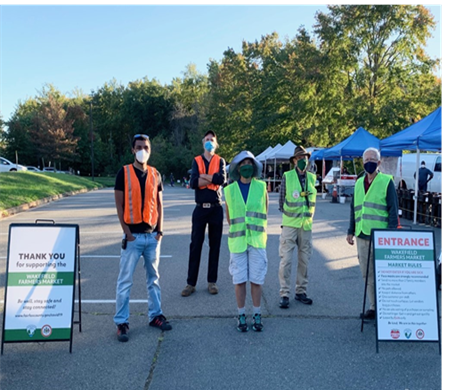 The role of the Market Manager is to manage a small local farmers market. This includes opening and closing the markets and serving as the face of the Farmers Market Program to customers and vendors. The Market Managers help promote the markets and answers customer questions. They monitor safety and help resolve minor issues or report incidents. Volunteers should be outgoing, passionate about buying local, and enthusiastic about connecting community members with local farmers and producers. Must offer a three month to one-year commitment. All farmers markets are operated under covid-19 safety protocols for the safety of our vendors, customers and Market Managers.
For more information or to join our team please fill out an application through Fairfax County's Volunteer Management System (VMS). If you have additional questions check out our website, give us a call at 703-642-0128, or email kylie.mclatchy@fairfaxcounty.gov.
The markets that are in greatest need of volunteer Market Managers are our Annandale, Lorton, and Kingstowne markets.
Annandale
Thursdays, 8 a.m. - noon
May 6 - November 4
Mason District Park
6621 Columbia Pike

Kingstowne
Fridays, 4 - 7 p.m.
May 7 - October 29
In the Giant parking lot
5870 Kingstowne Towne Center

Lorton
Sundays, 9 a.m. - 1 p.m.
May 2 - November 21
VRE parking lot
8990 Lorton Station Blvd
Staying connected
Want to stay connected with us on social media? Follow us on Instagram @fairfaxfarmmarkets. By following us on Instagram, you will stay up to date about what is in season, vendors, recipes, volunteer opportunities, market closings, and much more. We encourage people to take photos of what they buy, dishes they make using their fresh and local ingredients, and spread the joy of the markets on Instagram.
Looking ahead
As we start preparing for the upcoming market season, we are keeping your safety in mind. We will continue to follow the most up-to-date safety guidelines set in place to ensure everyone is protected. We plan on opening on time next year, which is April/May depending on the market. Once the 2021 market schedule is finalized, we will update our website with the updated schedule. We will also be updating our Instagram page with all the information you need to know. Again, thank you for all your support. We are looking forward to the 2021 season!